Sale!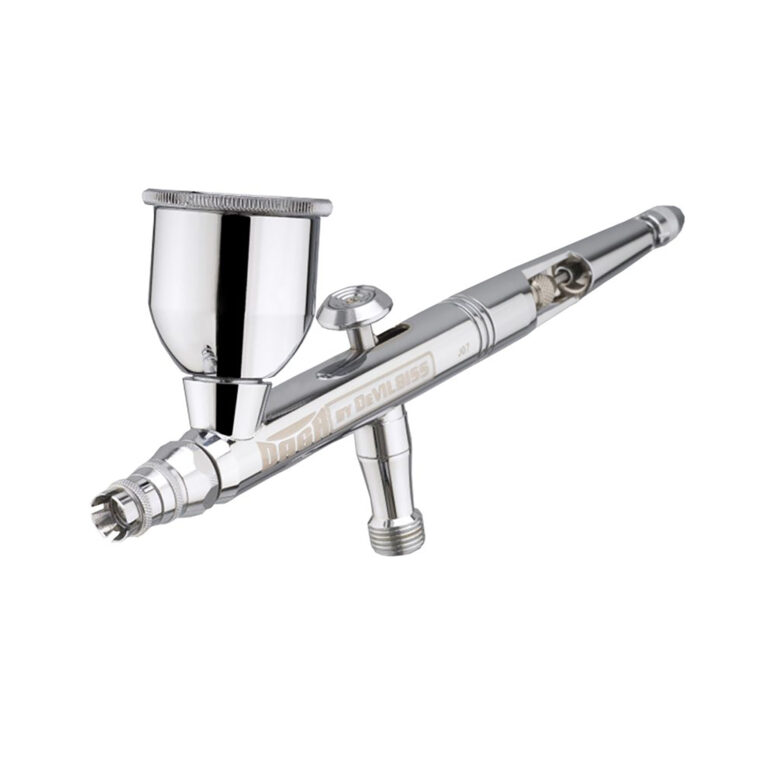 Description
DeVilbiss DAGR Airbrush
DAGR airbrushes are precision made with micro machining and high quality materials. Each airbrush is spray tested before being packaged in its collectors tin, assuring that it meets the tough quality standards you have come to expect from DeVilbiss. With proper care, your DAGR airbrush will provide you with excellent performance to express your creativity.
The DAGR sprays most automotive paints and lacquers, hairline detail to paint-flow shading and gradual shades. Lightweight, well balanced with smooth double action trigger, crown cap standard for fine lines and needle protection.
Copper, nickel and chrome plated body

Pre-set handle for precise control of paint flow

Removable 9ml (1/3rd oz) gravity cup

Solvent proof fluid passages

Teflon needle packing

Precision made and hand tested in the U.S.A.
Technical Specifications
Operating pressure: 1.3 – 3.5 bar (20-50psi)

Max inlet pressure: 12 bar (175psi)

Fluid tip: 0.35mm

Cup capacity: 9ml (1/3 floz)

Airbrush plating: Nickel, copper, chrome

Needle packing: PTFE (solvent proof)

Hose inside diameter: 3.2mm (1/8″)

Air hose connection: 1/4″ NPS (Male)

Universal fluid threaded connector: 3/8″
Click brand icon to view all products
100% Genuine Quality Products
Long lasting & European Made
ISO 9001 Certificated
British Assessment Burea
Free UK Mainland shipping on all orders over £50.00 + VAT