Sale!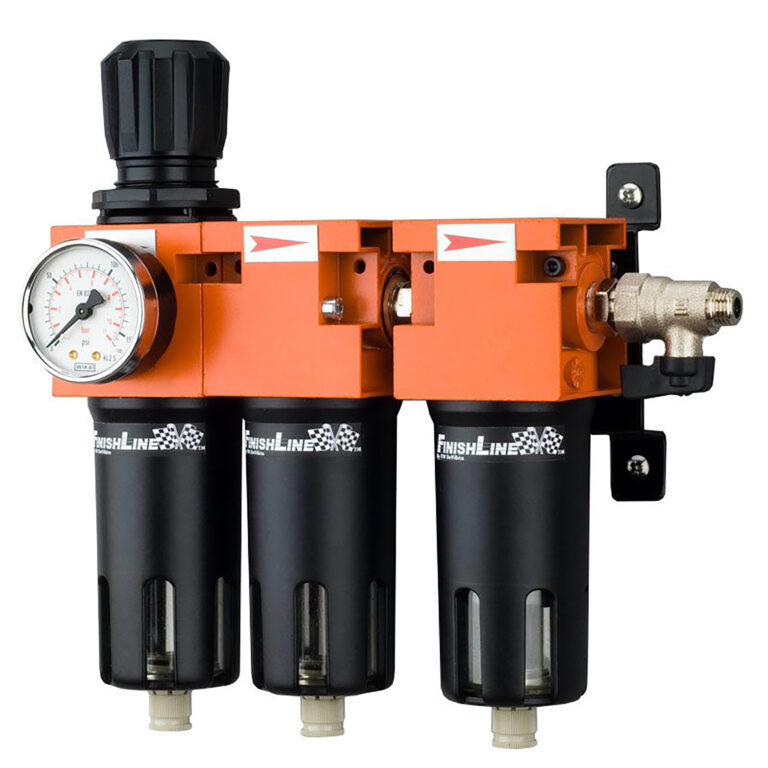 Description
DeVilbiss FLRCAC-1 Complete Triple Stage Breathing Air Filter Regulator Assembly
This competitive filter regulator is the ideal partner to the Vizi-601 Air-Fed Vizor.
With air filtration down to 0.01 microns and activated carbon removing contaminants down to 0.003 ppm for both breathing and spraying. It is designed to remove entrained dirt, liquid, oil and water from flowing compressed air.
The self-locking regulator together with the clear analogue gauge provides accurate air pressure control. It is supplied with a wall mounted bracket and ball valve controlled air outlet.
Technical Specifications
Air Inlet Connection 3/8" BSP Female

Air Outlet Connection ¼" BSP Male connection with ball valve

Gauge Range 0-11 bar (0-160psi)

Width: 230mm

Height: 238mm

Weight: 3250g

Maximum Air Flow: 25 cfm

Air Supply Pressure: 18 bar

Regulated Air Pressure: 8 bar

Maximum Operating Temperature: 50 °C (not suitable for low bake booths/ovens)

Main Filtration: 0.01 micron

Final Filtration: Activated Carbon 0.003 ppm (odour removal)

Drain: Semi-Automatic
3 Stage Filter Consists of:
9450102: First stage, replacement filter element

XA12: Second stage, replacement coalescing filter element

AC12: Final stage, activated carbon replacement filter element
Click brand icon to view all products
100% Genuine Quality Products
Long lasting & European Made
ISO 9001 Certificated
British Assessment Burea
Free UK Mainland shipping on all orders over £50.00 + VAT