Sale!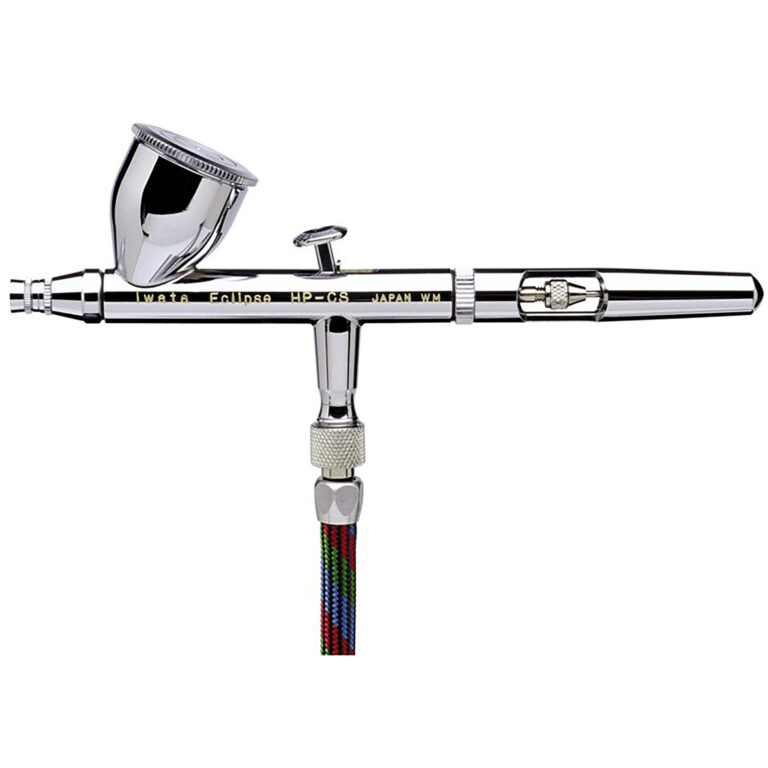 Description
Iwata Eclipse Series HP-CS Gravity Airbrush *Custom Artists Classic – Japanese Precision*
This Eclipse Series brush has established a new benchmark for excellence in an all-purpose airbrush.
The Iwata Eclipse range of airbrushes is ultimate versatility, reliability, and performance. Iwata designed these airbrushes as multi-purpose, with high paint flow and detail to cover many uses.
They have exceeded their expectations as being a general-purpose airbrush. They have established a new standard for excellence where precise control of spray is required and apply moderate to large amounts of spray to areas with heavier paints such as enamels, oils, and acrylics. The Eclipse Series have the most versatile spray pattern in the range of Iwata airbrushes.
The drop in hardened stainless steel nozzles is self-centring for perfect alignment and quick and easy assembly. This makes the Eclipse airbrushes the easiest to clean and maintain.
The Iwata Eclipse HP-CS is excellent for these applications:
Nail Art

Body Art

Cosmetics

Ceramics

Fine Art

Graphics

Model Painting

Hobby and Craft

Cake Decorating
The Iwata Eclipse CS features:
Gravity-feed with a large 1/3oz (9ml) cup with a lid.

Dual-action

Internal-mix

0.35mm needle and nozzle designed for spraying heavier paints while maintaining high detail spray characteristics

Fine detail to 2″ (0.35mm to 50mm) spray pattern

Funnel-shaped cup for ease of cleaning and efficient paint flow

Drop-in, self-centring nozzle for perfect alignment and ease of assembly

PTFE solvent-proof needle packing
The Eclipse HP-CS Airbrush allows you to change to a 0.5mm needle, nozzle and nozzle carp for border spraying. Please see the parts breakdown if wishing to purchase.
With this Iwata Eclipse airbrush, you will also need:
Air source (compressor)

Air Hose
Please see below and related products to purchase these items.
Airbrush Warranty
Anest Iwata-Medea warrants all Iwata and Neo for Iwata airbrushes against all manufacturing defects of materials and manufacture or workmanship. Neo for Iwata Airbrushes are warranted for a period of 5 years, and all other Iwata Airbrushes are extended by the Airbrush Company Ltd to 10 years in the UK.
Your 10 year extended warranty is only valid with the Airbrush Company Ltd if you have purchased from an authorised UK reseller and you present your proof of purchase. Should you have the need to make a claim, or consider you have a warranty claim, then please contact The Airbrush Company Ltd for the claims procedure.
Please note, that this warranty does not cover needles, nozzles, packing and o-rings since these parts need to be replaced occasionally due to normal wear. It also does not cover damage caused by negligence, airbrushes that have been altered in any way, or cleaning or servicing. 
If you have purchased your Iwata Airbrush from a dealer in another country, your warranty will be valid in that country and you will need to return it to the vendor for repair or replacement under warranty. 
Click brand icon to view all products
100% Genuine Quality Products
Long lasting & European Made
ISO 9001 Certificated
British Assessment Burea
Free UK Mainland shipping on all orders over £50.00 + VAT