Sale!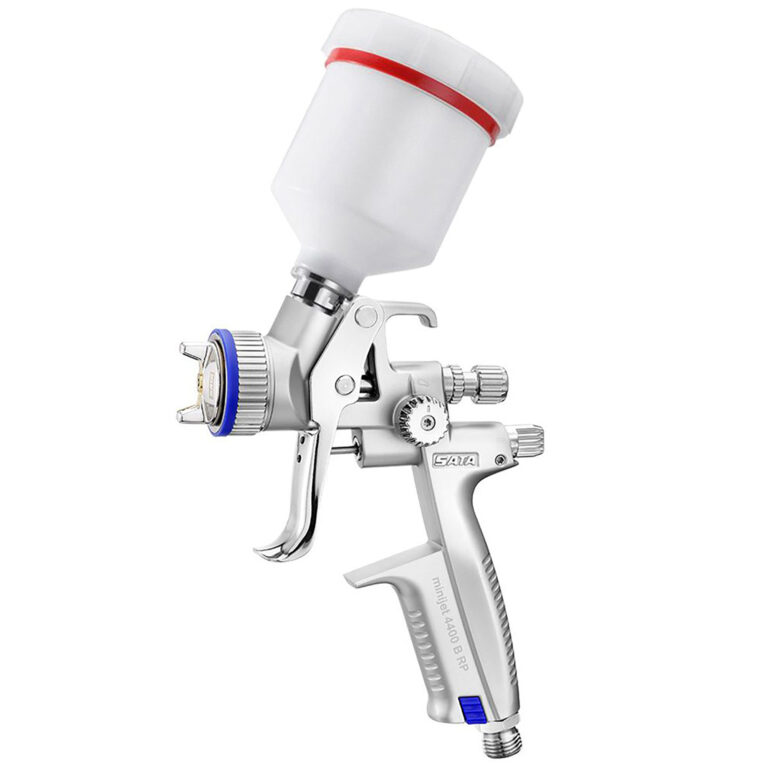 Description
SATA 4400 minijet B HVLP/RP Gravity Spray Gun with 300ml RPS Disposable Cup
Our opinion:  Endorsed by those in the know as the ultimate mini / midi gun.  This SATA 4400 minijet B HVLP has great fan adjustability from felt pen to wide hand. Class leader.
Ergonomics
With its new, ergonomically shaped handle, the spray gun is perfectly balanced. All adjustment elements can be safely operated even when wearing gloves. Furthermore, the design of the round/flat spray control is geared to the SATAminijet 3000 B. The spray gun is sturdy and long-lasting; the spray fan can be exactly adjusted with a 3/4 turn only.
Enhanced durability
The spray gun body is equipped with a corrosion-resistant chrome surface. The sturdy air cap is made of chrome-plated brass; the paint needle and fluid tip are made of tempered stainless steel. The trigger protects the paint needle from overspray during painting, thus prolonging the lifetime of the paint needle seal. The air piston rod has been especially reinforced. All these features result in an extended spray gun lifetime.
Large QCC cup connection
The SATA 4400 minijet B HVLP allows the use of all three RPS cup sizes. Furthermore, the large connection makes the cleaning of the material passages extremely safe and easy.
Small size – big performance

For small surfaces and areas of difficult access

HVLP and RP nozzle sets

Special SR nozzle sets for the smallest spot repairs (Spot repair)

New ergonomically shaped handle

Easy cleaning and maintenance

Large cup connection QCC for all RPS cup sizes

Highly flexible in terms of atomisation pressure and spray distance

VOC-compliant atomisation technology – optionally available as HVLP low pressure or RP optimised high-pressure technology

Adam 2 Compatible: Innovative and versatile digital retrofit air micrometre

Perfectly suitable for the use of RPS disposable cups

QCC Quick Cup connection for quick and clean cup changes as well as easy cleaning

CCS Colour Code System for the convenient identification of your spray gun

Top-quality is not enough – we guarantee it: for three years
For more information, see the Brochure PDF above
Available nozzle sizes (select from the dropdown box above)
HVLP SR

0.8 (198168)

1.0 (198176)

1.2 (198184)

1.4 (198192)

RP SR

0.8 (202390)

1.0 (198358)

1.2 (198366)
Technical Specifications
HVLP / HVLP SR Air Consumption @ 2.0 bar: 120 NI/min

RP / RP SR Air Consumption @ 2.5 bar: 200 NI/min
For Adapters please follow the links below for selected adaptor and select the correct part number from the model part number dropdown.
– 3M PPS adapter Series 1.0 No.40 (50573)
3M PPS Preparation System Adaptor (Choice of 25 Adaptors) (16032 / 16759)
– 3M PPS adapter Series 2.0 No. S40A (26135)
3M PPS Preparation System Adaptor Series 2.0 (26003 / 26139)
– DeVilbiss (DPC-502)
DeVilbiss DeKup System Adaptor (Choice of 8 Adaptors)
– Colad No.4 (9370A04)
Colad Snap Lid Adaptor (choose in drop down. refer to 'tech' for right one) (9370A02 / 9370A22)
Click brand icon to view all products
100% Genuine Quality Products
Long lasting & European Made
ISO 9001 Certificated
British Assessment Burea
Free UK Mainland shipping on all orders over £50.00 + VAT