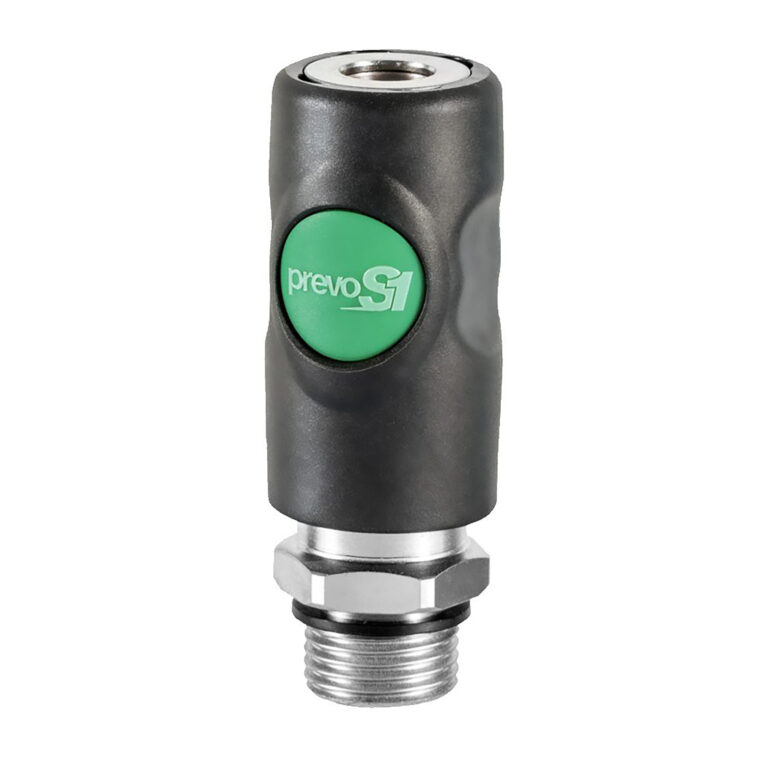 Description
Prevost ESI 07 Male HVLP/Euro (1/4″, 3/8″ and 1/2″ Available) Coupling/Receiver
Brand: Prevost

Thread: 1/4″ or 3/4″ or 1/2″ BSP

Thread Gender: Male

Profile: HVLP/Euro
With an innovative and highly efficient patented design, flow rate is optimised for maximum efficiency, minimum loss of power.
The seal is reliable enough for the manufacturer to offer a three year guarantee of no leaks as the push button mechanism automatically vents pressure and disconnects. Simple, solid and safe to use, this securely eradicates any risk of hose whip, and disconnection on impact.
The body of the coupling is made of a reinforced composite that's super heavy-duty. It is very highly impact and crush-resistant, as demonstrated in the video.
Lightweight, compact and ergonomic in form, the surface is warmer to the touch than metal couplings, and helps eliminate accidental scratches that cost labour and material.
Prevost's Prevo S1 range covers a host of different types of couplings in different profiles and sizes.
***PLEASE NOTE: Prevost couplers will not receive DeVilbiss or Sata swivel type tails/plugs. They will accept normal non-swivel tails of any brand.
European, British, ISO 6150 B, ISO 6150 C, Truflate, and ARO 210 profile couplers are available in G 1/4, G 3/8, and G 1/2.
Specifications
Temperature: -15°C + 70°C

Construction: Composite

Use: Pneumatic tools

ID Passage: 7.2 – 7.4 mm

Pressure: P.N. 12 bar

Weight: 86 g (coupling for 13 mm hose)

Colour: Black / Green

Flow rate at 6 bar: 1 820 l/min – DP = 0.6 b
Click brand icon to view all products
100% Genuine Quality Products
Long lasting & European Made
ISO 9001 Certificated
British Assessment Burea
Free UK Mainland shipping on all orders over £50.00 + VAT