Sale!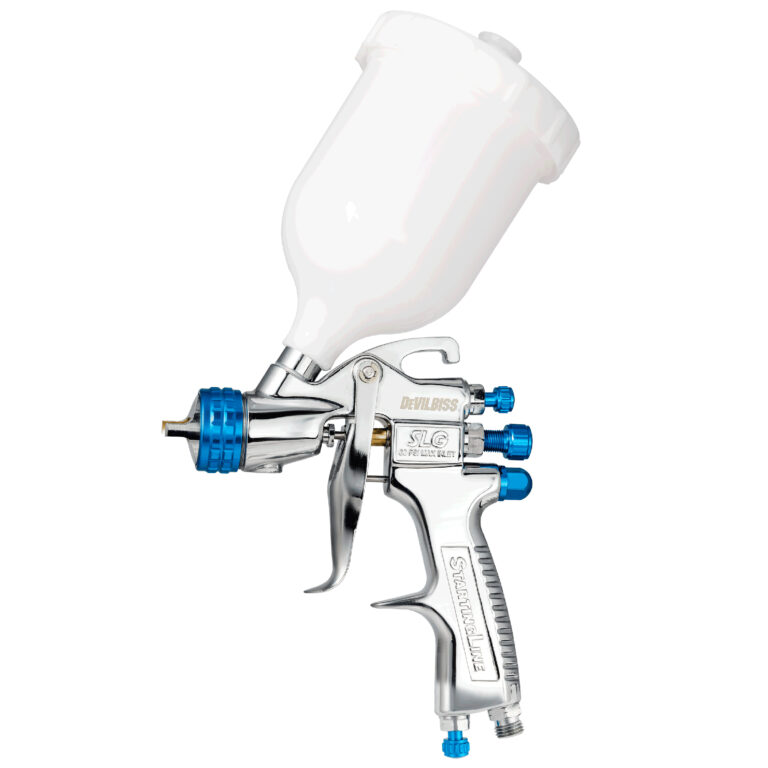 Description
DeVilbiss SLG-610 "Starting Line" Conventional Solvent Spray Gun (1.3mm) *Low Air Consumption* (SLG-610)

Our opinion: Great starting point – if you need a primer gun to partner – see Quartz guns 
* Suitable for small compressors *
This new model is a budget priced Spray Gun with conventional atomisation targeted at small jobbing car refinish painters where low output portable compressors are frequently in use. 
Suitable for most automotive refinish general single layer materials

Lightweight but strong, plated, cast aluminium Spraygun body construction

Comfortable ergonomic handle

Smooth trigger action for ease of operator control when feathering or bleeding

Easy-to-adjust air inlet pressure, spray pattern shape (full fan to round) and fluid controls

The air cap only consumes 136 L/min (4.8 cfm) so a small portable 1hp / 5 cfm air compressor is sufficient to operate the Spraygun

SLG-610 Sprayguns are supplied as ready to use "Refinisher Kits", complete with a 550ml cup, filter, cleaning brush & universal spanner
Technical Specifications
Air inlet connection thread: 1/4″

Recommended working pressure: 2.5 bar (35psi)

Max inlet pressure: 4 bar

Setup: 1.3mm
For Spray Gun Adaptors please follow the links below for selected adaptor and select the correct part number (shown in the brackets) from the model part number dropdown.
Click brand icon to view all products
100% Genuine Quality Products
Long lasting & European Made
ISO 9001 Certificated
British Assessment Burea
Free UK Mainland shipping on all orders over £50.00 + VAT