Sale!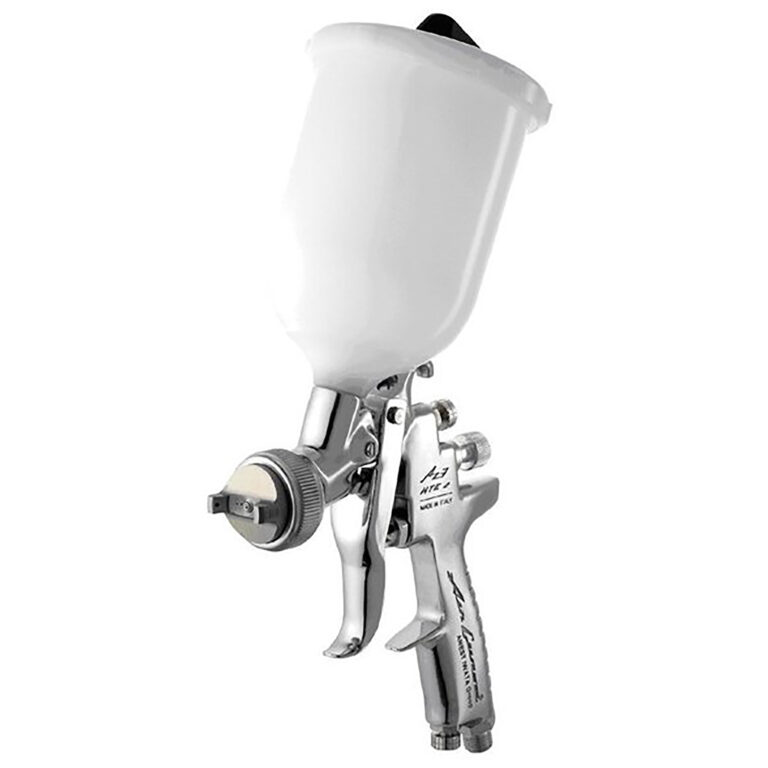 Description
Iwata AZ3 HTE2 AV Gravity Spray Gun with 600cc Akulon Cup and Air Flow Control Valve
*Works Like It's Twice the Price – Bargain All-Rounder*
Specifications for
Anest Iwata AZ3 HTE
Fine finish polished body

A smooth polished surface makes it easier to clean

Ergonomic spray gun design

New trigger and ergonomic grip shape to relieve stress on painting

Lightweight & well-balanced body

Gun head 20-50g lighter than the previous model

New airflow valve (option to select in the drop-down)

Increased control precision

Improved AKULON cup

Improved paint cup with multi-thread construction

Spare parts compatible with previous Anest Iwata AZ3 HTE
Air Consumption: 7-11 CFM depending on nozzle size.
Fluid Tips Available:
1.3mm: Suits all colour coat applications including metallic basecoat both solvent and water.
1.5mm: Suits higher build application of non-metallic colours, and can be used for lower build primers. Also white spirit Dulux type wood vanishes.
1.8mm: Suits primer application. Also suits emulsion applications.
2.0mm: Suits very high build primer application
2.5mm: Suits polyester spray filler and very high build / unthinned primer application. Also suits heavy build masonry / textured.
3.5mm: Suits liquid metals, tars, and very viscous products
Available with or without airflow control valve
For Adapters please follow the links below for selected adaptor and select the correct part number from the model part number dropdown.
–3M PPS adapter Seires 1.0 No.6 (16036) 
3M PPS Preparation System Adaptor Series 1.0 (Choice of 25 Adaptors) (16032 / 16759)
– SATA (125278)
SATA RPS Adapters for non-SATA Spray Guns (125211 / 147272)
– Colad No.13 (9370A13)
Colad Snap Lid Adaptor (choose in drop down. refer to 'tech' for right one) (9370A02 / 9370A22)
Additional information
| | |
| --- | --- |
| Weight | 1.5 kg |
| Nozzle Setup | 1.0 (W0SPG80AG10C), 1.0 With Control Valve (W0SPG81AG10C), 1.3 (W0SPG80AG13C), 1.3 With Control Valve (W0SPG81AG13C), 1.5 (W0SPG80AG15C), 1.5 With Control Valve (W0SPG81AG15C), 1.8 (W0SPG80AG18C), 1.8 With Control Valve (W0SPG81AG18C), 2.0 (W0SPG80AG20C), 2.0 With Control Valve (W0SPG81AG20C), 2.5 (W0SPG80AG25C), 2.5 With Control Valve (W0SPG81AG25C), 2.8 (W0SPG80AG28C), 2.8 With Control Valve (W0SPG81AG28C), 3.0 (W0SPG80AG30C), 3.0 With Control Valve (W0SPG81AG30C), 3.5 (W0SPG80AG35C), 3.5 With Control Valve (W0SPG81AG35C) |
Click brand icon to view all products
100% Genuine Quality Products
Long lasting & European Made
ISO 9001 Certificated
British Assessment Burea
Free UK Mainland shipping on all orders over £50.00 + VAT