Sale!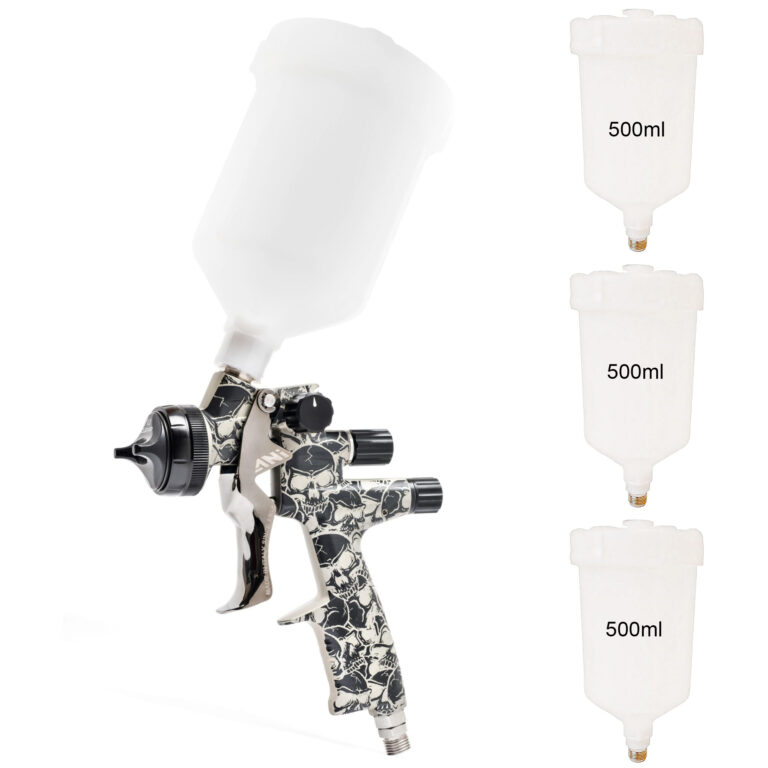 Description
A.N.I. (ANI) Skull Gravity Spray Gun *1.2 & 1.3 Available* with FREE Trucker Cap / T-shirt (AH1535035 / AH1535036)
This is jut the spray gun only supplied with a gravity cup, it does not come with the digital gauge as seen in the kit.
For the A.N.I. Skull Spray Gun Kit please click here.

For spare Gravity Cups please see the linked products below the description.
Promo Offer
Trucker Caps – One size fits all

T-Shirt – Please specify size in checkout notes.

3x 500ml Gravity Cups
This new paint gun designed by ANI, allows you to have professional painting in 3 different ways, simply by changing the cap and adjusting the air pressure according to the cap used. It works like a classic gun, except that with a simple gesture it is possible to change the painting mode, optimizing working times as much as possible. With this innovation, ANI is increasingly responding to the multiple demands of today's bodybuilders.
For Spray Gun Adapters please follow the links below for selected adaptor and select the correct part number from the model part number dropdown.
– 3M PPS adapter Series 1.0 No.03 (16033) 
3M PPS Preparation System Adaptor (Choice of 25 Adaptors) (16032 / 16759)
– 3M PPS adapter Series 2.0 No. S03 (26033)
3M PPS Preparation System Adaptor Series 2.0 (26003 / 26139)
– DeVilbiss (DPC-43)
– SATA RPS (125252)

– Colad No.14 (9370A14)
Colad Snap Lid Adaptor (choose in drop down. refer to 'tech' for right one) (9370A02 / 9370A22)
Additional information
| | |
| --- | --- |
| Weight | 5 kg |
| Dimensions | 30 × 30 × 30 cm |
| Setup | 1.2mm (AH1535035), 1.3mm (AH1535036) |
| T-Shirt Size | Small ", " Medium ", " Large ", " X-Large |
Click brand icon to view all products
100% Genuine Quality Products
Long lasting & European Made
ISO 9001 Certificated
British Assessment Burea
Free UK Mainland shipping on all orders over £50.00 + VAT