Sale!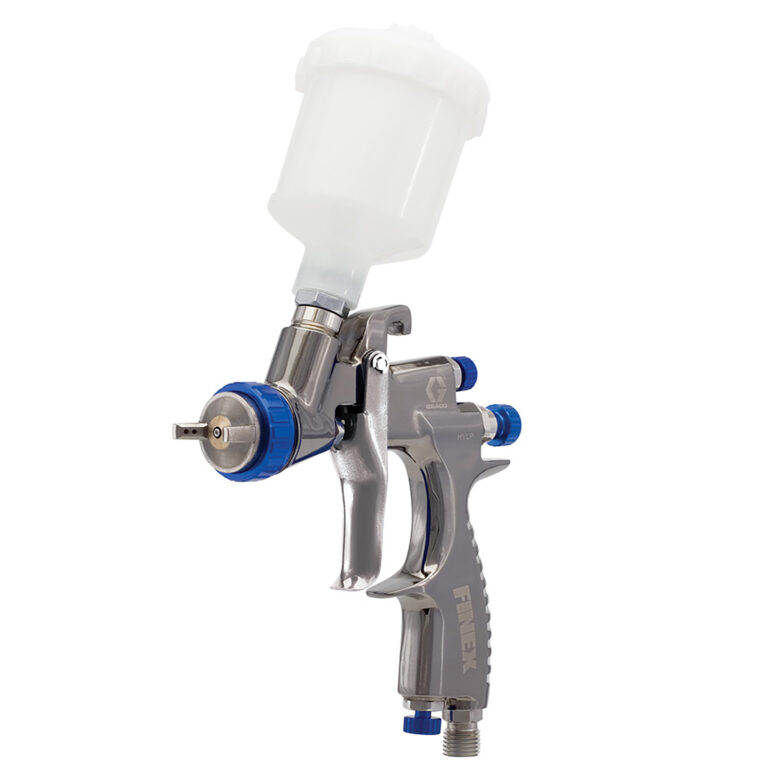 Description
Graco Finex HVLP Gravity Feed Mini / Spot Repair Spray Gun
Our opinion: Well balanced and lightweight, the Finex gun design offers a more affordable way to spray without sacrificing performance.
Air Caps optimized for high-quality spray performance

Lightweight, ergonomic gun

Suitable for water or solvent.

Light trigger pull

Integrated air inlet adjustment (cheater) valve

3M PPS and aluminium cups are available
Set-ups
0.6: suits small model makers/artists. A set-up that is midway between an airbrush and most spot repair guns

0.8: suits detail smart work / small area

1.0: suits water-based basecoat / solvent basecoat/lacquer

1.2: suits above for fuller panel work

1.4: behaves like a full-sized gun in miniature handling form
Technical Specifications Graco Finex HVLP
Maximum air inlet pressure: 7 bar (0.7 MPa, 100 psi)

Maximum fluid working pressure: 7 bar (0.7 MPa, 100 psi)

Maximum HVLP inbound air pressure: 2 bar (0.2 MPa, 29 psi)

Air consumption: 7 cfm / 198 lpm at 2.0 bar (0.2 MPa, 29 psi)

Fluid and air operating temperature range: 0-43° C (32-109°F)

Weight with cup – 0.4 kg (0.9 lb)

Wetted parts: Aluminium, stainless steel, engineered plastic
For Adapters please follow the links below for selected adaptor and select the correct part number from the model part number dropdown.
– 3M PPS adapter Series 1.0 No.27 (16119) 
3M PPS Preparation System Adaptor Series 1.0 (Choice of 25 Adaptors) (16032 / 16759)
– SATA (126326)
SATA RPS Adapters for non-SATA Spray Guns (125211 / 147272)
– Colad No.22 (9370A22)
Colad Snap Lid Adaptor (choose in drop down. refer to 'tech' for right one) (9370A02 / 9370A22)
Click brand icon to view all products
100% Genuine Quality Products
Long lasting & European Made
ISO 9001 Certificated
British Assessment Burea
Free UK Mainland shipping on all orders over £50.00 + VAT