Sale!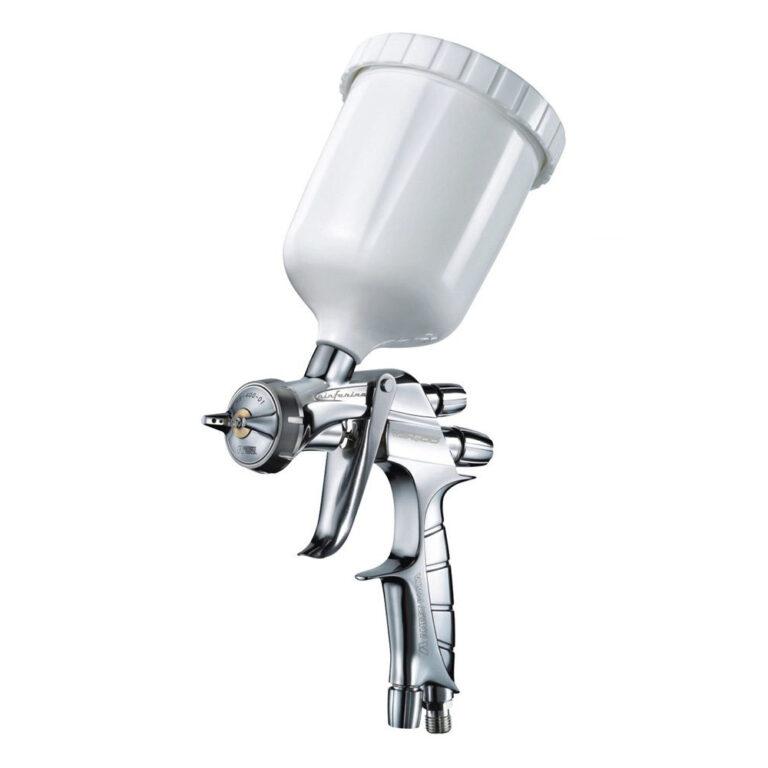 Description
Iwata SuperNova WS400 Gravity Spray Gun
Fantastic performance from the designers of almost every modern Ferrari and more, Pininfarina!
Tailored set ups for all applications. An easy gun to get on with – never seems to have a critic.
Spray gun available stamped 'BASE' or 'CLEAR' with a 1.2, 1.3 or 1.4mm fluid tip.

Comes with a free Iwata regulator gun gauge

New HD (High Delivery) setups up to a 1.5mm available, ideal for solvent application.

New OBS (optimized base setting) available in a 1.3 only, please see dropdown option for details.
Supernova has a long flat fan pattern with paint material delivered evenly across it, this gives you a superb overlap on modern paints. Essential for mottle-free basecoat application and a flat and even lay down on clears.
Fluid control is essential for colour reproduction of waterborne basecoats, the combination of consistent stable fluid output and flat even fan pattern gives you an unmatched application of modern paints. The new responsive trigger action makes application of basecoats even easier.
Weight and balance makes this Spray gun an excellent choice for a comfortable repetitive strain free day in a busy modern body shop environment. The SUPERNOVA state of the art ergonomic design helps you achieve the results you require in todays demanding work place.
This superb Spray gun delivers a consistent droplet size when atomizing, combine this with the Spray guns flat even fan pattern and this will help reduce the common issues ie: boil and pin holing on HS clear coats. These issues are due to too much clear coat in one area caused by centre heavy fan patterns.
This gun takes spraying modern day water based basecoats and HS clear coats to another level.
HD suits solvent.
Available as standard, Pro kit, and Super kit.
WS400 Spray Guns. Use for Base / Clear / Lacquer
Low Volume Low Pressure – Produces a finer spray than LS400
Pro Kit contains:
WS400 Super Nova Spray gun 

Spray gun Cup 600cc 

Plastic Gun Case 

Spanner 

Cleaning Brush
Available with the following fluid tips:
1.2

1.3 Base

1.3 Clear

1.3 Base HD

1.3 Clear HD

1.3 Base OBS

1.4 Base

1.4 Clear

1.4 Base HD

1.4 Clear HD

1.5 Base HD

1.5 Clear HD
For Adapters please follow the links below for selected adaptor and select the correct part number from the model part number dropdown.
– 3M PPS adapter Series 1.0 No.43 (50677) 
3M PPS Preparation System Adaptor (Choice of 25 Adaptors) (16032 / 16759)
– 3M PPS adapter Series 2.0 No. S43 (26077)
3M PPS Preparation System Adaptor Series 2.0 (26003 / 26139)
– DeVilbiss (DPC-78)
– SATA (125278)
– Colad (9370A13)
Colad Snap Lid Adaptor (choose in drop down. refer to 'tech' for right one) (9370A02 / 9370A22)
Additional information
| | |
| --- | --- |
| Weight | 2 kg |
| Plastic Case (with free Impact Controller 2) | Not Required, 1.3 Clearcoat (13244115EPL), 1.4 Clearcoat (13244117EPL), 1.3HD Clearcoat (13244122EPL), 1.4HD Clearcoat (13244124EPL), 1.5HD Clearcoat (13244126EPL), 1.2 Basecoat (13244112EPL), 1.3 Basecoat (13244113EPL), 1.4 Basecoat (13244116EPL), 1.3HD Basecoat (13244121EPL), 1.3OBS Basecoat (13244118EPL), 1.4HD Basecoat (13244123EPL), 1.5HD Basecoat (13244125EPL) |
| Carton Box (with free Impact Controller 2) | Not Required, 1.3 Clearcoat (13244115EP), 1.4 Clearcoat (13244117EP), 1.3HD Clearcoat (13244122EP), 1.4HD Clearcoat (13244124EP), 1.5HD Clearcoat (13244126EP), 1.2 Basecoat (13244112EP), 1.3 Basecoat (13244113EP), 1.4 Basecoat (13244116EP), 1.3HD Basecoat (13244121EP), 1.3OBS Basecoat (13244118EP), 1.4HD Basecoat (13244123EP), 1.5HD Basecoat (13244125EP) |
| Model [Plastic Case/Carton Box] | 1.3 Clearcoat (13244115EPL) [Plastic Case] with Free Impact Controller 2, 1.4 Clearcoat (13244117EPL) [Plastic Case] with Free Impact Controller 2, 1.3HD Clearcoat (13244122EPL) [Plastic Case] with Free Impact Controller 2, 1.4HD Clearcoat (13244124EPL) [Plastic Case] with Free Impact Controller 2, 1.5HD Clearcoat (13244126EPL) [Plastic Case] with Free Impact Controller 2, 1.2 Basecoat (13244112EPL) [Plastic Case] with Free Impact Controller 2, 1.3 Basecoat (13244113EPL) [Plastic Case] with Free Impact Controller 2, 1.4 Basecoat (13244116EPL) [Plastic Case] with Free Impact Controller 2, 1.3HD Basecoat (13244121EPL) [Plastic Case] with Free Impact Controller 2, 1.3OBS Basecoat (13244118EPL) [Plastic Case] with Free Impact Controller 2, 1.4HD Basecoat (13244123EPL) [Plastic Case] with Free Impact Controller 2, 1.5HD Basecoat (13244125EPL) [Plastic Case] with Free Impact Controller 2, 1.3 Clearcoat (13244115EP) [Carton Box] with Free Impact Controller 2, 1.4 Clearcoat (13244117EP) [Carton Box] with Free Impact Controller 2, 1.3HD Clearcoat (13244122EP) [Carton Box] with Free Impact Controller 2, 1.4HD Clearcoat (13244124EP) [Carton Box] with Free Impact Controller 2, 1.5 Clearcoat (13244126EP) [Carton Box] with Free Impact Controller 2, 1.2 Basecoat (13244112EP) [Carton Box] with Free Impact Controller 2, 1.3 Basecoat (13244113EP) [Carton Box] with Free Impact Controller 2, 1.4 Basecoat (13244116EP) [Carton Box] with Free Impact Controller 2, 1.3HD Basecoat (13244121EP) [Carton Box] with Free Impact Controller 2, 1.3OBS Basecoat (13244118EP) [Carton Box] with Free Impact Controller 2, 1.4HD Basecoat (13244123EP) [Carton Box] with Free Impact Controller 2, 1.5HD Basecoat (13244125EP) [Carton Box] with Free Impact Controller 2 |
Click brand icon to view all products
100% Genuine Quality Products
Long lasting & European Made
ISO 9001 Certificated
British Assessment Burea
Free UK Mainland shipping on all orders over £50.00 + VAT