Sale!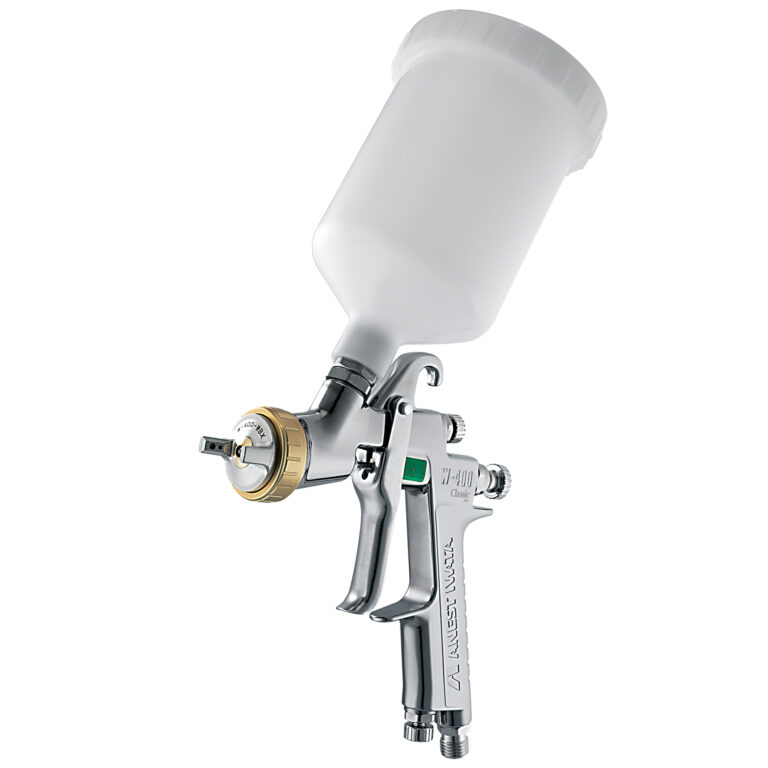 Description
Iwata W400 WBX Classic Gun Premium Performance for Water/Solvent
Our opinion: If you want a premier league with all setups available, this is as cheap as it gets. Smooth worker – loyal fans everywhere
W-400 WBX:
The W-400 WBX Basecoat Spray gun excels in delivering exceptional performance at an affordable price point. Engineered for the refinisher who demands maximum colour accuracy and Basecoat laydown. With the patented Split NozzleTM Technology, basecoat performance is of the highest standard and provides excellent results for the professional refinisher who demands superior atomisation and results every time. The WBX W-400 Basecoat gun enhances the spraying process with its unmatched features:
– Smooth trigger action designed to deliver a soft and smooth pull.
– Split NozzleTM Technology is unmatched in its atomisation capabilities as well as creating the perfect fan pattern, reducing striping, mottle, and other basecoat imperfections.
– Lightweight and balanced design offers a comfortable painting experience, reducing painter tiredness and allowing you to work uninterrupted for longer.
– Minimal spare parts, no baffles, seals, and O-rings are needed on a W-400 gun reducing mechanical errors and spare part costs.
Features:
– Superior Basecoat performance with up to 25% material savings.
– Optimised fan pattern easily wets up panels and lays basecoat perfectly.
– Atomisation is best in class – even droplet distribution and uniform size.
– Fast application speed with high transfer efficiency.
Transfer efficiency up to 65%
Flat and thin spray pattern
Extra air valve for colour fading
Air consumption 280 L/min at 2.0 bar (LV2 air caps)
Most popular 1.3 (best control and finish), then 1.4 (faster), then 1.2 for some water-based only.
Comes with a standard 600cc cup, lid and filter, cleaning brushes and a spanner.
Technical Specifications
– Air pressure: 2.0 bar
– Air consumption: 280 Nl/min / ~10 cfm (free air)
– Fluid output: 60ml/min
– Pattern width: 80mm
– Weight: 380g
– Cup: M&S cup or 600cc cup
For Adapters please follow the links below for selected adaptor and select the correct part number from the model part number dropdown.
– 3M PPS adapter Series 1.0 No.02 (16032)
3M PPS Preparation System Adaptor (Choice of 25 Adaptors) (16032 / 16759)
– 3M PPS adapter Series 2.0 No. S02 (26032)
3M PPS Preparation System Adaptor Series 2.0 (26032 / 26139)
– DeVilbiss (DPC-11)
– SATA (125211)
– Colad (9370A09)
Colad Snap Lid Adaptor (choose in drop down. refer to 'tech' for right one) (9370A02 / 9370A22)
Click brand icon to view all products
100% Genuine Quality Products
Long lasting & European Made
ISO 9001 Certificated
British Assessment Burea
Free UK Mainland shipping on all orders over £50.00 + VAT